The Island Residency, Bristol.
STAGE 1- AUDIENCE PARTICIPATION

This project started with a four-day audience participatory exhibition, during which visitors collective grew sculptures together in the space.
Cardboard coffee cups found along the streets and parks, and twigs and other natural debri from the green spaces lay in piles for visitors to use.
These are materials that can be burnt out in the furnace, to visually illustrate to the audience the bronze casting process. Alongside these, 3 doors found in a skip in Bristol lent up against the wall, onto which the audience were invited to carve for as little or as long as they wanted, again collectivly adding value to the discarded.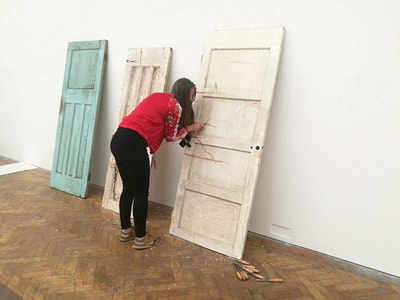 STAGE 2- LIVE POUR

Stage 2 of the residency was a live bronze casting performance in the Station Yard. The doors became moulds, into which I poured the bronze into the carvings of the public, the molten metal tracing the lines they had colletively made.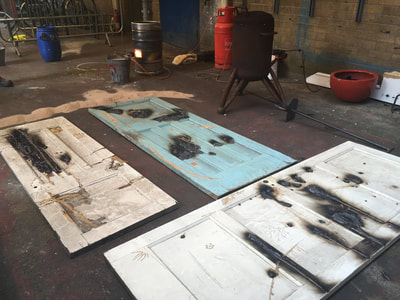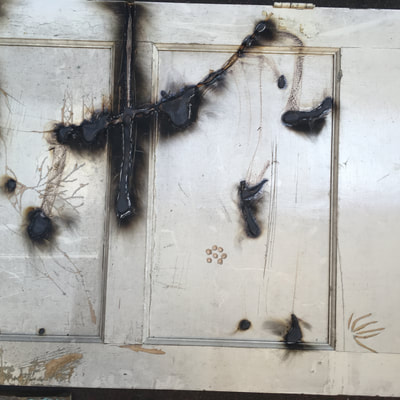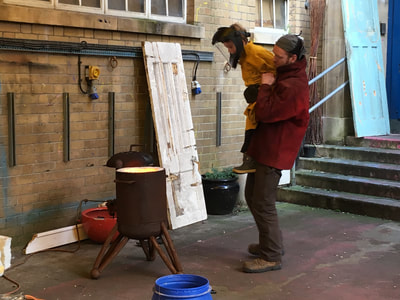 STAGE 3- FINAL SHOW
I finished casting a selection of objects taken out of the sculptures made during the exhibition, and worked on the three doors to bring attention to the bronze in alternative ways, developing each one in a different direction; Door 1, I simply polished the bronze and left it in place in the carvings; Door 2, I again polished the bronze slightly and placed each piece below the carved marks, displaying simultaneously the charred shape of the carved 'mould' and the cast bronze; Door 3, I worked with the shape of the burns and the bronze and turned it into a landscape painting based on Bristol. I returned to the Gallery Space at the Island and held a final exhibition, displaying the initial collaborative sculptures with the bronze incorporated within them, the doors, and a gallery of images taken throughout the project, alongside photos I took of bronze casting process in Nepal and India.